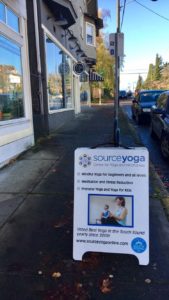 Ananda is Sanskrit for bliss, which is exactly what students find at Source Yoga. Located on North 21st Street in Tacoma or Regents Blvd in University Place, this local yoga studio has amazing instructors that help students at every level develop and harness their abilities. I began my Yoga expedition this past September. Coming in with zero experience, I was nervous about trying yoga. I decided to start with the I & II level class. One hour and fifteen minutes later my Yoga Bhakti (path of devotion) was under way.
Let's talk benefits! Everyone knows that yoga helps to increase flexibility, energy and vitality. Moreover, when paired with healthy eating leads to weight reduction and increased self esteem. Yet, improved athletic performance isn't the only benefit. With a monthly membership at Source Yoga students are able to utilize mats, bolsters, blocks, and straps to assist in their practice. You never need to worry about forgetting your mat again.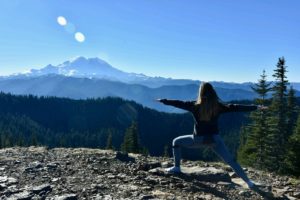 All the instructors at Source Yoga are extremely knowledgeable. They are continually developing their skills by attending seminars and workshops. Students also have access to with their membership or can purchase these exploits individually.
What to expect! Class starts with seated dhyana or meditation and Instructors help students mentally focus through breathing exercises. I have tried a couple other Yoga studios in Tacoma. One of the many reasons I keep coming back to Source Yoga is the instructors. They walk students through the poses by performing them during class. They also assist students by helping to adjust their poses to develop proper movement.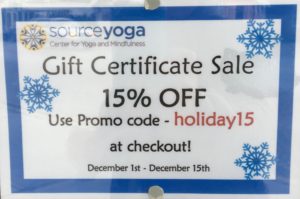 So do yourself a favor this Holiday Season and take a break from the chaos by venturing into Source Yoga and find a moment of zen. Use Holiday Promo Code – Holiday15 – to get 15% off gift card purchases until December 15th! 
Ananda Yoga
Address: 2712 N 21st St a, Tacoma, WA 98406