Manifesto Coffee Satisfies Your Daily Caffeine Dose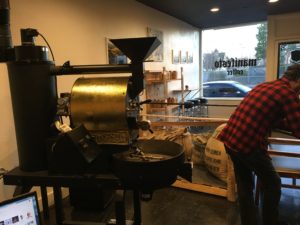 Manifesto Coffee hit the ground running when their dynamic team opened  doors in October 2016,  emphasizing what's important to many when it comes to coffee. This shop focuses on superbly roasted beans, and offers Fair-Trade, Organic, Single-Origin Coffee. The coffee has a rich full-bodied flavor that might have you going back for a second Americano. Before you get trapped by winter storms, stop by and pick up one of their original house blends. Hours of operations are 6 AM to 5 PM pm on weekdays and 8 AM to 5 PM on weekends. Manifesto Coffee is located on South 11th Street in Tacoma's Hilltop Neighborhood
Meet the Masterminds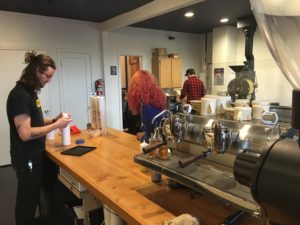 Manifesto Coffee is a casual coffee shop, co-owned by Israel Hickey and Jack Saffle. This pair has taken their combined coffee expertise and collaborated with a couple close counterparts to create their version of the corner coffee shop. Israel the Head Roaster, lets the beans speak for themselves. His skillful roasting brings out a rich aroma and full bodied flavor profile. I had a moment to discuss the details with Jack. He shared with me in all honesty how for him this local coffee joint embodies all things Tacoma. This is a place for Skaters, Dungeon and Dragons folk and the alternative locals. Not only is this a space to drink amazing coffee, but its a place to collaborate and share their love of Tacoma. With coffee at their core, it's not hard to see why Manifesto Coffee is the next up-and-coming neighborhood attraction.
The Main Event, Single Origin Espresso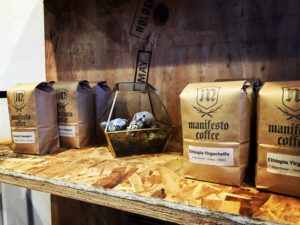 Establishing themselves in the Fair Trade Organic scene, Manifesto Coffee is available at Harbor Greens, the Tacoma Boys 6th Ave, Puyallup and Lakewood locations, Stadium Thriftway, and Dave's Meat and Produce. Whats more, their variety of blends have unique flavor profiles which are highlighted in the charismatic names.
Sumatra Takengon has a truly decadent taste. This Single Origin blend has a sweet flavor profile that highlights strawberry, cinnamon, and hibiscus. Consequently the name take-n-gone showcases its popularity as this house original has flown off the shelves. Alternatively, Ethiopia Yirgacheffe hits more floral notes, embodying elderflower, honey and melon for a smooth taste. Indeed spice is not forgotten with the Mexico Chiapas. This spicy bright coffee has notes of cedar and tobacco. No doubt this coffee will transport drinkers somewhere warmer. Finally Nicaragua San Juan De Rio Coco has rich apricot, hazelnut notes. This cup of Joe goes perfectly with your favorite chocolate pastry. If you aren't sure what caffeine hits the spot just ask your barista for a recommendation.
2 Ways to Enjoy
For most of us, coffee helps us to speak to other humans in the morning. The first way to try this new local coffee shop is to of course stop by and get caffeinated. Not everyone takes their coffee black. For this reason, Manifesto Coffee and 1022 have you covered. The syrups on the espresso bar are made from scratch by the craft cocktail professionals at 1022 on South J Street. They are coupled with seasonal, organic flavors that in my opinion are some of the best blended syrups around. Moreover, the second way to enjoy is to grab a bag of beans from your local grocer and perk up with a french press.Considering that you're already in the neighborhood, go grab some java from these local experts. Tell them Clever Neighbor sent you and you seek caffeine!
Manifesto Coffee
Address: 1003 S 11th St, Tacoma, WA 98405
Phone: (360) 775-9834
Hours: 6AM–5PM